Remote access is supported in Microsoft Edge using IE mode. Other web browsers such as: (Firefox, Chrome, Safari) will work but is not recommended.
Open Microsoft Edge

and

Click on the ellipses (three dots) at the top right corner.

Choose "Settings" and click "Default Browser" from the options on the left side.
Under the section for "Allow sites to be reloaded in Internet Explorer Mode", choose the option for Allow.

Under the section for "Internet Explorer mode pages", click Add. In the text box that appears, type https://remote.onedeskcloud.com. Click "Add". Note: The setting only lasts for 30 days. You may need to reset IE mode after 30 days.

You can now open a new tab and browse

https://remote.onedeskcloud.com

, also you can add the page to Favorites

.
Enter your username and password, and click "Sign in". Once logged on, you will see available desktop

shortcut. Click on "Cloud Desktop" to access to the remote computer.

When you select the desktop shortcut, you will get the following message below, and you will have to click Connect.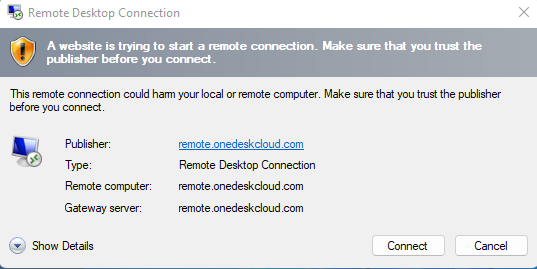 Then, you will get into the remote computer, you can browse your apps and folders, on the bottom right you can see IT Support Info and send a ticket with problems that you present in your account.